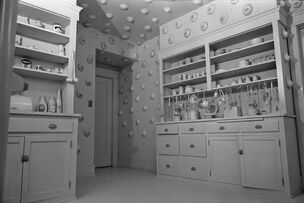 Works of art using the nipple or breast (in an unusual way, outside the standard nude or erotic context):
Dislocated:

Exaggerated/stylized/abstracted/idealized:

Suckling:

Performance + other:
This site collects a seemingly endless number of entries on breasts in art, and surprisingly, despite its crass title and topic, it displays some decent works of art, including many in the list above. Though, it seems to lack a lot of the feminist artworks.
Ad blocker interference detected!
Wikia is a free-to-use site that makes money from advertising. We have a modified experience for viewers using ad blockers

Wikia is not accessible if you've made further modifications. Remove the custom ad blocker rule(s) and the page will load as expected.