Works of art using dolls, puppets, dummies and mannequins
: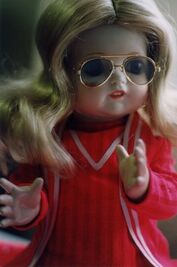 Charles Ray, Oh! Charley, Charley, Charley..., (1992)
Cindy Sherman, Untitled 1992 (1992), Untitled #302, (1993)
Thomas Hirschhorn, Chromatic Fire (2006)
Hans Bellmer, La poupee (1936)
Raoul Hausmann, Mechanical Head (The Spirit of Our Age) (1920)
Marcel Duchamp, Étant donnés (1946-66)
®tmark, Barbie Liberation Organization (1993)
Lynn Hershman Leeson, CybeRoberta (1970-98)
Ken Feingold, Box of Men (2007), Self Portrait as Center of the Universe (1998-2001)
Jiří Barta, Klub odlozenych (The Club of the Discarded) (1989) (video)
Allen Jones, Hatstand (1974)
Arman, untitled (?), Ainsi, Font, Font/Little Hands (1960)
Nigel Henderson, Wig Stall, Petticoat Lane (1952)
Ernst Lubitsch's, Die Puppe (1919)
Jan Švankmajer, Jabberwocky (film still) (1971)
Joseph Cornell, Untitled (Bébé Marie) (early 1940s)
Juergen Teller, unknown title
Frank Horvat, Broken Doll at Flea Market (1958)
Man Ray, Mannequin de l'exposition Surrealist (1938)
Margaret Bourke-White, Paramount Prop Dept. Puppet of Martha Ray used in earlier picture (1937)
Morton Bartlett, Untitled (Girl with Dog) (1960), Untitled (Girl Crying) (1960)
Christian Boltanski, L'attente (1967) (image not available)
Erich Hartmann, USA. Long Island City, NYC. 1961. Mannequin factory. (1961)
David Mach, Untitled (1989)
Paul McCarthy, The Saloon (1995-6)
Edward Kienholz, Mother Sterling (1959), The Future as Afterthought

(1962)

Yinka Shonibare MBE, How to Blow up Two Heads at Once (Ladies) (2006)
Guillaume Bijl, Composition Trouvée (2008)
Jindřich Heisler, Frontispiece for Marquise de Sade's Philosophy in Boudoir (1943), Untitled, from On the Needles of These Days (circa 1934-1935)
Yayoi Kusama, Repetitive-Vision (1996)
Laurie Simmons, Clothes Make the Man (1992)
Tony Oursler, Insomnia (1996)
Pierre Huyghe, This Is Not a Time for Dreaming (film still) (2004)
Momoyo Torimitsu, Horizons (2004): 100 G.I. Joe dolls
Ad blocker interference detected!
Wikia is a free-to-use site that makes money from advertising. We have a modified experience for viewers using ad blockers

Wikia is not accessible if you've made further modifications. Remove the custom ad blocker rule(s) and the page will load as expected.