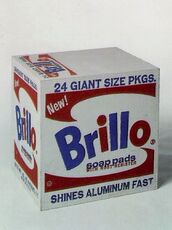 Note: boxes generally differ from cubes in that they are openable containers and need not be cubic in shape.
Works of art that use boxes and crates:
Valie Export, Touch Cinema (1968)
Kirsten Justesen, Sculpture II (1968)
Mateo Tannatt,

Night Box - Figure Model

(2007)
Tony Oursler, I Want to Be You (1996)
João Onofre,

Box sized DIE featuring Darkmoon

(2007-8)
Jeff Carter, A Vague Sensation of Paradise (2001)
Eve Hesse,

Accession II

(1968)
Tom Friedman, Untitled (Total) 2000
Andy Warhol,

Brillo Box

(1964)
Richard Artschwager, Untitled (1994)
Paul Thek,

Meat Piece With Warhol Brillo Box

(1965)
Gabriel Orozco, Empty Shoe Box (1993)
Joseph Kosuth,

Box, Cube, Empty, Clear, Glass-A Description

(1965)
Stéphane Malka, Boombox (2011)
Tetsumi Kudo,

Votre Portrait - T

(1965)
Franz West,

Cubi Carini

(1991)
Liam Gillick,

Discussion Island

(1997)
Stefan Bruggemann,

Nothing Box

(2003)
Marissa Lee Benedict,

Re-action-Reaction, Accession (after Eva Hesse)

(2011)
Cyprien Gaillard,

Azteca

(2007)
Tobias Purith,

Connection I

(2004)
Cyprien Gaillard,

The Recovery of Discovery

(2011)
Louise Nevelson, Sky Cathedral (1958)
Ad blocker interference detected!
Wikia is a free-to-use site that makes money from advertising. We have a modified experience for viewers using ad blockers

Wikia is not accessible if you've made further modifications. Remove the custom ad blocker rule(s) and the page will load as expected.