Works of art that use billboards:
Rubén Ortiz-Torres, Albures Mexicanos (1984)
Tacita Dean, The Story of Beard (1992): the photographic image (filmstill from an 8-min film) based off of Manet's famous Le Déjeuner sur l'herbe (1863) was displayed on a billboard. Unfortunately, the billboard version is not available online, but it can be found in No. 1: First Works by 362 Artists, eds. Francesca Richer and Matthew Rosenzweig.
Guerrilla Girls, Billboard, Do Women Have to be Naked to Get into a Museum? (billboard) (1989)
Doug Fogelson, 35th & Ashland (2011)
Gran Fury, Kissing Doesn't Kill (1989, Chicago City Transit), Welcome to America (1989)
Jennifer Bornstein, How Many Billboards: The End (2010)
Barbara Kruger, Your body is a battleground (1990)
Broken City Lab, Talking to Walls (2010)
Mario Ybarra, Jr., Go Tell It (2005)
KAWS, Kaws x Undefeated Billboard (2004)
Carl Smool, Hollywood Bowled Over by Neutron Bomb (Altered Billboard, 1st Ave. and Bell Street, Seattle. 1981): Originally, the billboard said, "Hollywood Bowled Over by Kent III Taste!" Smool altered this billboard in response to Reagan's authorization of the renewed production of neutron bombs, which in turn created a media sensation. Smool admits to having had borrowed the idea from Mark Pauline.
Mark Pauline: before serving as one of the founding members of the violent, anarchic-leaning Survival Research Laboratories group, Pauline made his claim to fame by altering billboard advertisements in San Fransisco from the mid-1970s to the early 1980s. He often did these alterations in public in front of an audience of amused spectators. [Unfortunately, visual documentation is difficult to find.]
Billboard Liberation Front (BLF): an anti-marketing, anti-corporate campaign sponsored by a loose-knit cooperative that has been doing illegal billboard alterations since its somewhat mythic origins in the late 1970s with artists Jack Napier and Irving Glikk, and a group of artists known as "Max Factor 26." They now document their interventions on an ancillary online image blogging site (linked above). [see Mark Dery's article Culture Jamming: Hacking, Slashing and Sniping in the Empire of Signs for more on the topic.]
Martha Rosler, Messages to the Public (1989): a project of the Public Art Fund, Times Square Spectacolor Sign.
Zoe Strauss, "La Corona," Billboard Project (2012)
Robert Walker, Rue Ste-Catherine Est, Montreal (1990)

Publicity:

Appropriating advertisement or advertisement techniques:
Posters, graffiti fliers, street signs
:

Magazines, pamphlets, and newspapers:
Online ad space, tactical media
: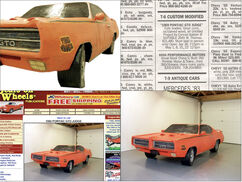 Ad blocker interference detected!
Wikia is a free-to-use site that makes money from advertising. We have a modified experience for viewers using ad blockers

Wikia is not accessible if you've made further modifications. Remove the custom ad blocker rule(s) and the page will load as expected.