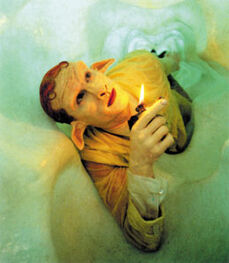 Works of art that involve tunnels, passageways, hallways, and crawlspaces:
Lang / Baumann, Beautiful Tube (2011)
John Bock, Klutterkammer (2004)
Khaled Jarrar, Journey 110 (2009) (Vimeo video trailer): the video installed in a gallery space documents the daily passage of Palestinian families through underground tunnels into Isreal (more info).
Matthew Barney, Cremaster Cycle 3 (2002): Barney plays a satyr-esque creature who crawls through vaseline, somewhat suggestive of bodily processes, birth, reproduction, and digestion.
Olafur Eliasson, One-Way Color Tunnel (2007)
Dan Havel and Dean Ruck, Inversion (2005)
Nancy Holt, Sun Tunnels: Sunset (1976), Star-Crossed (1979)
Leo Villareal, Multiverse (2010)
Pilyun Ahn, ADAMAO – Uncomplying Tunnel (2010)
Wolfgang Laib, The Passageway (1988)
James Turrel, The Light Inside (1999)
Wang Du, The Space-Time Tunnel (2006)
Briccio Santos, Heritage Tunnel (2009)
Lucio Fontana, untitled installation (?) (1968) (image not available): Fontana was most well-known for his paintings that slashed holes through the canvas surface, but he also created room-sized environments that expressed his obsession with the mysteries of a pure space beyond the confines of the canvas. In 1968, he created an installation for Documenta IV in Kassel, Germany consisting of an entirely white labyrinth, with angular edges and narrow walkways, including ceiling and floor, which surrounds a large plaster cut.
Stephen Hendee, Presence Control (2001), SuperThrive (2000)
Maurice Benayoun, The Tunnel under the Atlantic (1995)
Jen Stark, Piece of An Infinite Whole (2010)
Markus Linnenbrink, Diedrittedimension (2011)
Ad blocker interference detected!
Wikia is a free-to-use site that makes money from advertising. We have a modified experience for viewers using ad blockers

Wikia is not accessible if you've made further modifications. Remove the custom ad blocker rule(s) and the page will load as expected.