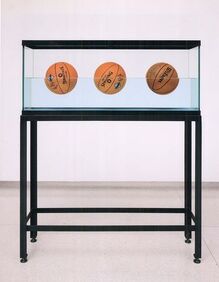 Works of art that involve sports/athletic equipment:
Nicola Costantino, Soccer Ball (1999)
Leon Golub, Time Split II (1994)
Jeff Koons, Three Ball 50/50 Tank (Two Dr. J. Silver Series, One Wilson Supershot) (1985)
Martin Kippenberger, Happy End of Franz Kafka's "Amerika" (1994)
Lang / Baumann, Spielfeld #5 (Boisko) (2009), Diving Platform (Bern) (2005), Dynamo Kyiv - 2001 Stadion Dynamo Kiev, Kiev UKR, "Dreamgames" (2001), Spielfeld #2 (2004)
Paul Pfieffer, John 3:16 (video frames) (2000)
George Wesley Bellows, Stag at Sharkey's (1909)
Judy Chicago, Boxing Ring (1970)
Catherine Opie, Football Landscape #9 (Crenshaw vs. Jefferson, Los Angeles, CA) (2007)
Katharina Dietlinger, Nürnberg (2011)
I Ketut Moniarta, Basketball on Zinc (2011)
Matthew Barney, Cremaster Cycle 1 (1995)
Beryl Cook, Tennis (1981)
Iván Navarro, Nowhere Man (2009)
Douglas Huebler, Basketball Piece Variable Piece No. 46 (1971) (image not available)
Ana Soler, Causa-Efecto (Cause & Effect) (2011)
Christopher Chiappa, Cornball (2010)
Jerzy Berés, Diplomatic Ping Pong (1971): "Eight months before the first contact between the People's Republic of China and the USA I created a work called Diplomatic Ping Pong. This first contact turned out to be precisely a match of their respective ping pong teams, which had been kept secret until the very last moment." - Jerzy Berés, untitled statement (c. 1980), in Expressiv: Central European Art since 1960 (Vienna and Washington D.C.: Museum moderner Kunst/Museum des 20. Jarhunderts and Hirshhorn Museum and Sculpture Garden, Smithsonian Institution, 1988), 72-74.
Ann Veronica Janssens, Untitled (Middelheim Museum, Antwerp, 2003)
Ad blocker interference detected!
Wikia is a free-to-use site that makes money from advertising. We have a modified experience for viewers using ad blockers

Wikia is not accessible if you've made further modifications. Remove the custom ad blocker rule(s) and the page will load as expected.