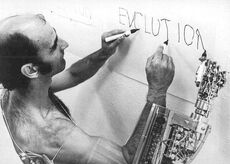 Works of art that involve prosthesis:
Fan Xiaoyan, Physical Attachment no. 4 (2008)
Rebecca Horn, Handschuhfinger (Finger Gloves) (1972)
Matthew Barney, Cremaster Cycle 3 (2003): athlete and model Aimee Mullins plays the cheetah girl and woman with glass prosthetic legs. Isabella Rossellini also plays a character with glass prosthetic legs in Guy Maddin's film The Saddest Music in the World, though Aimee Mullin's glass prosthetic legs are real.
Otto Dix, Card-Playing War Cripples (1920)
Stelarc, Third Hand (1981)
Lucy and Bart, Evolution (2008)
Jindřich Heisler, untitled (foot with spring attached to picture of runner) (1943) (image not available)
Daito Manabe, Myoelectric Sensor (2006), Face Dance (test 4) (2009), performance at Transmediale 11, Berlin (2011) (Youtube videos)
Lynn Hershman Leeson, X-Ray Man (1965)
Orlan, Reincarnation of Saint-Orlan (1990-present): Self-hybridization In-Between (1994)
Ad blocker interference detected!
Wikia is a free-to-use site that makes money from advertising. We have a modified experience for viewers using ad blockers

Wikia is not accessible if you've made further modifications. Remove the custom ad blocker rule(s) and the page will load as expected.