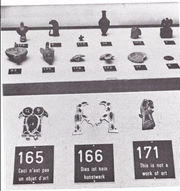 Works that arrange collected objects in a taxonomic or morphological fashion:
Anna Artaker, Personenanalphabet (A Portrait of the Artist as an Alphabet) (2008)
Tom Fruin, Discard (2004)
Carsten Höller, Double Mushroom Showcase (2009)
Richard Prince, Untitled (Three Women Looking In The Same Direction) (1980)
John Waters, Children Who Smoke (2009)
Douglas Huebler, Variable Piece n° 44 (Global) (1971)
Marcel Broodthaers, Departement des Aigles (Department of Eagles) (1968), The Farm Animals (1974)
Ward Shelley, Teenagers (2012)
Brian Collier, The Collier Classification System for Very Small Objects (website), HUGE detail, The McLean County Art Center, Bloomington, IL (detail) (2005)
Evan Roth, Graffiti Taxonomy: Paris (website, started 2004)
Hermann Glöckner, Installation view of Glöckner objects at LACMA (2008)
Bernd and Hilla Becher, Winding Towers, Belgium, Germany (1971–91)
Dieter Appelt, Photographies extraites de Wiesent-Cinema # 2 (2001-3)
Edizioni Laterza, Queste non sono tutte, Bruno Munari da Arte come mestiere (1966)
Sir Astley Paston, L'évolution du mamelon d'un sein féminin avec l'âge (1840): scientific sketch
Ernst Haeckel, Chiroptera from Kunstformen der Natur (1899-1904): scientific sketch
Anne Harild, Swimming Pool (2005)
Peter C. Emerick, 200 Koans (2012)
Susan Hiller, Dedicated to the Unknown Artists (1972-6)
Jürgen Klauke, Antlitze (Faces) (1972-2000)
Eugenio Dittborn, The 7th History of the Human Face...Airmail Painting No. 78 (1990)
Bob de Graaf, On the Crossing of Species (2010)
Allan McCollum, The Dog From Pompei (1991)
Mary Kelly, Post-Partum Document: Introduction (1973)
Pascal Rostain and Bruno Mouron, Hollywood's trash and treasure (2004)
Raffael Rheinsberg, Hand und Fuß (Hand and Foot) (1980): a formal arrangement of old shoes and gloves found in an abandoned Anhalter train station. They once belonged to forced laborers of WWII.
Penelope Umbrico, Sunset Portraits (2011)
Koen Vanmechelen, The Cosmopolitan Chicken (2000)
Hong Hao, 10 Years Chinese Contemporary (2006)
James Cabot Ewart, Nipples at the Met (wesite, 2012-present): Documents all the nipples at the Metropolitan Museum of Art.
Ugo Rondinone, Diary of Clouds (2008/11)
Danh Vo, 26.05.2009, 8:43 (2009):

Chandelier from the former ballroom of the Hotel Majestic, Paris.

George Brecht, Repository (1961)
Timm Ulrichs, Kunst & Leben. Bildbeispiele aus Pornoheften (1978), Bewaffnete Augen - entwaffnende Gesten (1973/78/97)
Sven Fritz, Gastroliths (2011)
Moyra Davey, Copperhead Grid (1990)
Ad Reinhardt, How to Look at Modern Art in America (1946)
Aaron Koblin, The Sheep Market (2007)
Donald Lipski, Gathering Dust (1978-9)
Candice Breitz, Queen (A Portrait of Madonna) (2005) (Vimeo video)
Olafur Eliasson, The Waterfall Series (1996)
Keith Tyson, Large Field Array (2007)
Eleanor Antin, Library Science (1971): Antin appropriated the Library of Congress's classification system to classify "a sub-set of the world of people" (i.e. women): "Each participant in the exhibition of women artists was asked to provide me with a 'piece of information' of any form that she felt appropriate  at this time. Twenty-six participants repsonded. Each 'piece of information' (object or document) was classified for subject as a book in accordance with the classificational system of the Library of Congress...All of the 'pieces of information' were exhibited beside their 'subject catalogue cards.' - Eleanor Antin, The American Librarian (Feb 1972).
Driessens & Verstappen, Morphotheque (1996): genetically modified vegetables (carrots)
Ad blocker interference detected!
Wikia is a free-to-use site that makes money from advertising. We have a modified experience for viewers using ad blockers

Wikia is not accessible if you've made further modifications. Remove the custom ad blocker rule(s) and the page will load as expected.